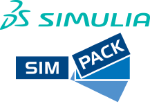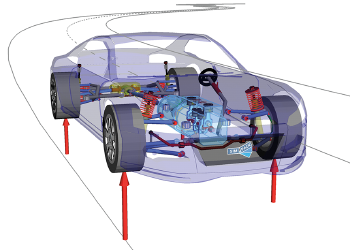 SIMULIA, the Dassault Systemes brand for realistic simulations, offers Simpack – the leading multibody simulation (MBS) software for mechanical and mechatronic designs.
Founded in 1993, Simpack has grown steadily, fueled by the input and creativity of its employees.
Today, Simpack is the world leading multibody simulation software tool for simulating commercial road and railway vehicles. It is also used in other demanding areas such as engine simulation, HiL/SiL applications, wind turbine design and certification, and land machinery.
Simpack's ability to simulate high frequency vibration and harsh shock contact has made it the number one choice not only for ride and comfort analyses, but also for NVH and fatigue studies.
Simpack's versatility and excellent connectivity to various CAD, control, hydraulic, and FE software enables Simpack to be easily integrated into any manufacturer's already established development processes.
In July 2014, the SIMPACK Group was acquired by Dassault Systèmes, giving the growth and development of Simpack an all-new perspective and dimension. As part of the SIMULIA Brand, Simpack is now the strategic MBS component of the Dassault Systèmes 3DEXPERIENCE portfolio.
SIMULIA also offers Simpack consulting and engineering services, as well as various training courses.
For more information, please visit simpack.com and www.3ds.com/products-services/simulia.